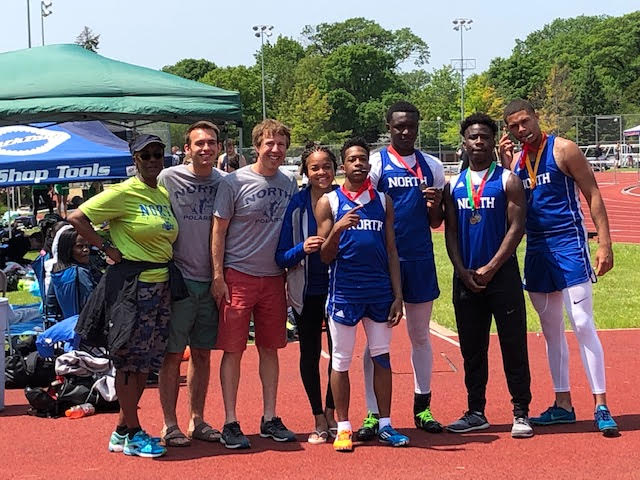 Let's Go Polars!
The Lowry Hill Neighborhood Association (LHNA) is partnering with Minneapolis' North Community High School to bring awareness to investment opportunities with the North High Polars, particularly their award-winning track and field team.
The New Lowry Hill / North High Connection
In May of 2020, the Minneapolis Board of Education approved the "Comprehensive District Design" program. Under the plan, which went into effect this fall, new public high school students in the Hill Lake neighborhoods of Lowry Hill, Kenwood, Cedar-Isles-Dean, and East Isles will now attend Minneapolis' North Community High School. The expanded area also includes neighborhoods around Bde Maka Ska to 36th Street, Bryn Mawr, and Loring Park.
Every School is on its Own
At the September LHNA board meeting, North High Principal Ms. Mauri Friestleben spoke to members about the current issues facing the school. Unlike other schools in the Minneapolis Public School District and around the state who have been able to amass and replace equipment over time, the Polars' track team has virtually no equipment and is in a startup mode. Once they acquire the equipment, they will plan for a 10-year replacement schedule, which the school district funding can manage. They are seeking an initial investment of $43,000.
North High's Assistant Principal, Mr. Steve White, a former assistant coach with the University of Minnesota men's track and field team, sent the board a detailed list of desired equipment costs associated with the Polars' track and field program. White wrote,
"Although we have a brand new 8-lane track with runways and surfaces for all field events, we do not have the equipment necessary to host a meet. We do not have starting blocks, hurdles, starting equipment, or a pole vault landing system. Although the MPS district invested millions in the facilities, there is no district or school-level budget for the $43,000 of initial equipment needs of track and field."
Citing multiple threats of closure in the last 20 years and lack of a large graduate population, North High has not had the self-sustaining capabilities of larger schools.
Everybody and Every Body
LHNA is highlighting the track and field teams' greater opportunity for whole roster participation. The staff at North High emphasized the celebration of individual accomplishment and improvement associated with an extra-curricular activity that has space for everybody and all body types. Although this is not unique to track and field, it is a feature missed for many students involved in other sports. "Much of the benefit of sports only comes with participation and visible improvement; track offers both to all," said White.
Polars track coach, Chris Skoglund, was interviewed for the October issue of "Hill & Lake Press."
"Being a part of something brings out the best in my students," he said, "North High Students go above and beyond every day to show the world what they can do."
Mauri Continues to "Love Them First"
As a graduate of Minneapolis Public Schools herself, North High's principal, Ms. Mauri Friestleben, has now served at 15 different MPS sites. Before her work at North High, she was the principal of Lucy Craft Laney at Cleveland Park Community School, an elementary school in North Minneapolis. The school and Friestleben were the subject of a full-length, 2019 documentary, "Love Them First: Lessons from Lucy Laney Elementary," produced by KARE 11 News and their parent company TEGNA Inc. The film screened at several festivals and was heralded as a story of inspiration, determination, and courage, as the school faced heartbreaking setbacks. The full film is available is watch for free at lovethemfirst.com.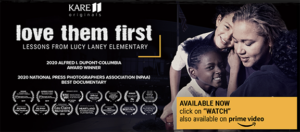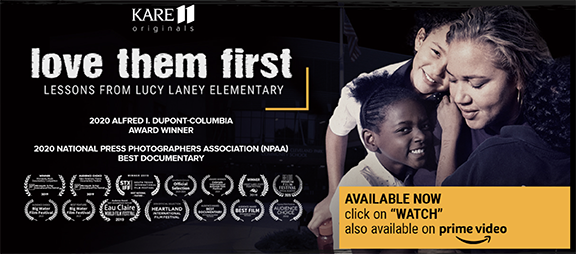 You're Invited
LHNA will be hosting a virtual event called "Meet Your Principal" on Monday November 22 at 7pm. Speakers include: Principal Mrs. Mauri Friestleben, Assistant Principal Mr. Steve White, Athletic Director Kale Severson, and track and field coach, Mr. Chris Skoglund.
Donation Information
We hope you consider North High in your year-end charitable giving. We look forward to bringing you more information about one of our community's inspiring public schools in the near future.
April, 2022 – Update:
Although we have acquired the funding for track & field equipment, donations to the booster club are still welcome and encouraged. The Minneapolis Foundation is now the fiscal agent for the North Community High School Booster Club.
To make a charitable donation, please use the link provided below:
Learn More About North Community High:
https://north.mpls.k12.mn.us/home

https://sites.google.com/mpls.k12.mn.us/mrsfriestlebenspage/home?authuser=1

A brief interview with Coach Skoglund from the October issue of the Hill & Lake Press can be found here.