Sign up for our newsletter and stay updated!
The Lowry Hill Neighborhood Association (LHNA) is a volunteer-run organization and the oldest neighborhood organization in Minneapolis.
Its purpose is to work toward the preservation and improvement of the Lowry Hill neighborhood and provide a forum fostering communication, participation, and advocacy for Lowry Hill neighborhood stakeholders regarding issues and events meaningful to our community.
Want to get involved? The LHNA Board meets monthly and meetings are open to all residents.  Our association has six standing committees. Meeting dates, committee updates and more can be found in the News and Calendar sections of this website as well in the monthly LHNA email newsletters.
We welcome your support and encourage your involvement. If you would like to volunteer, please contact us!
Map of Lowry Hill Neighborhood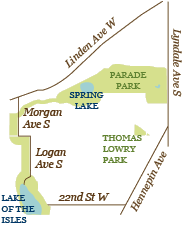 2018-2019
LHNA Events
June 24, 2018
Lake of the Isles Historic Homes Walking Tour
July 17, 2018
Ice Cream Social at Thomas Lowry Park
September 8, 2018
Neighborhood Garage Sale
October 2018
Thrill Kenwood
November 2018
Thanksgiving Thank You
to Fire and Police Depts.
January 20, 2019
Ice Skating Party
at Lake of the Isles
February 2019 TBD
Sculpture Garden Snowshoe Tour
May 2019
2019 Annual Meeting
Neighborhood News & Programs
The LHNA monthly board meeting will be on Tuesday, February 5, 2019 at the Kenwood Rec Center, 2101 W Franklin Ave, Minneapolis, MN 55405 The meeting will be from 7:00 p.m. to 9:00 p.m. All residents are welcome. LHNA Board…
Read More »