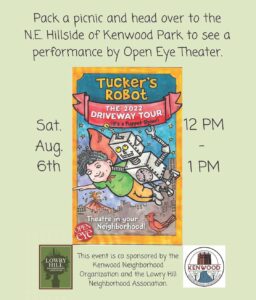 Join the Lowry Hill Neighborhood Association and Kenwood Neighborhood Organization for a free neighborhood event!
When: Saturday, August 6th; show starts at 12pm
Where: NE hillside of Kenwood Park
Who: Performance by Open Eye Theater; sponsored by LHNA and Kenwood Neighborhood Organization.
What: Part of Open Eye Theater's Driveway Tour, the show TUCKER'S ROBOT, contains puppetry, live music, and fun for families and children of all ages.  Together, Tucker and his robot discover the importance of friendship and the courage to face bullies.
More information about Open Eye Theater here >>