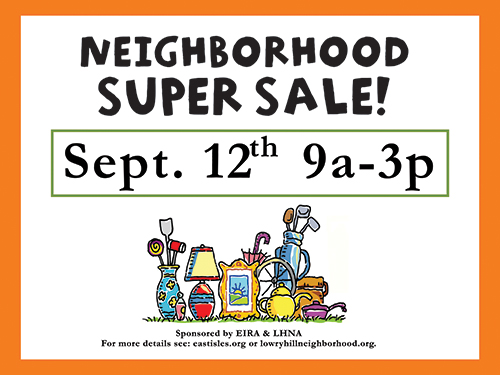 TODAY
LOWRY HILL & EAST ISLES SUPER SALE
Shop and Get Social with Your Neighbors
The Lowry Hill Neighborhood Association and East Isles Residents' Association are once again hosting the Neighborhood Super Sale on Saturday, September 12th from 9:00 a.m. – 3:00 p.m.
Maps of the Neighborhood Super Sale (click to download):

COVID-19 protocols will be in place and practiced. Don't forget to bring and wear your mask!
Many thanks to neighbor and realtor Barb Davis for her help in arranging and sponsoring the pick-up of unsold items this year when DAV fell through.
For questions, please contact Jenna Egan at info@eastisles.org.
This event is sponsored by the Lowry Hill Neighborhood Association and the East Isles Resident Association